Arla achieves 481,800 kWh energy savings in critical water supply systems
Arla Foods, one of the leading players in the international dairy market, has embarked on a journey towards their 2050 target of carbon net zero emissions.
Arla Foods, one of the leading players in the international dairy market, has embarked on a journey towards their 2050 target of carbon net zero emissions. The first step, however, is achieving efficiency targets of lowering carbon emissions by 63 % at 60 dairies worldwide by 2030. Grundfos is an essential part of these plans.
Recently, Grundfos supplied and installed new intelligent pumps at the Arla Westbury dairy in the United Kingdom. Based on proven and validated energy measurements, Grundfos helped the site achieve savings per year of 481,800 kWh energy and 194 tons CO2 for their ice and chilled water systems, with a return on investment (ROI) of less than two years.
"Our Westbury facility has proven to be a great place to start with the drive towards our 2030 efficiency targets, which is part of implementing our global sustainability agenda. Here, the documented successes leading to substantial reductions in energy use, emissions and costs, and improved operation can be used at new sites," explains Mia Bredal, Director, Supply chain sustainability PMO at Arla Foods.
The optimisation measures leading to energy efficiency gains need to be put into the broader context of Arla Foods' global aims for sustainability.
"The 2050 carbon neutral ambition is not itemised in detailed plans, as this is not possible while much of the enabling technology is still evolving. Therefore, our immediate focus is on efficiency targets based on quantifiable data and known costs. That is why we can set precise 2030 efficiency targets of a 63 % reduction in emissions at 60 facilities worldwide and the goal of 100 % electricity from renewable sources by 2025. We have concrete plans for how to achieve these targets," says Mia Bredal, Director, Arla Foods.
Arla's site at Westbury in Wiltshire manufactures a range of butter products. Focused on providing good dairy nourishment from sustainable farming and operations, Arla Foods is also the world's largest manufacturer of organic dairy products.
Arla employs 250 people at the Westbury site. Typical production figures per year are 45,000 tonnes of skim milk powder and up to 80,000 tonnes of butter under the Anchor and Arla brands.
The site was built in 2002 as a balancing plant for the UK. At the time, the plant was run by a group of farmer cooperatives before Arla Foods took over in 2016. A balancing plant is where surplus milk and cream volumes are turned into long shelf-life products, and this is a strategically important function for maintaining milk prices that are returned to farmers.
Arla's Westbury site has pumps installed for chilled and iced water applications, process water feed and steam boiler feed. Towards the end of 2020, Westbury contacted Grundfos to help optimise their chilled and ice water applications.
"The first contact with Grundfos was about some drives and a water loop on some air handlers. Then after that they started looking at where they could save us energy. And the focus was first on the chilled water pumps," explains Andy Newman, who is the service specialist involved with the projects for the new pumps and has been looking after them since.
For chilled and ice water, the two banks of pumps in the refrigeration plant are critical for a lot of things around the factory, for example for processes such as post pasteurisation and product handling. The original pumps in the installation had effectively been working for 20 years since the factory was built, were direct online and weren't mechanically sealed. This provided challenges for the personnel at Westbury both in terms of frequent service and ease of maintenance.
"When we get a maintenance project where we're upgrading or installing a new piece of equipment, one of the things that we always check is what's the best practice for that in terms of energy consumption. So, we find out we can make energy savings, and this is where Grundfos comes in," explains George Nicholls, who is Project Manager at Arla Foods with primary responsibility to look after CAPEX processes and help facilitate and manage some of those projects through to completion.
When Grundfos first visited, they toured the site and discussed possibilities for improvements with Arla. The chilled water pumps were chosen as the first to be monitored. Grundfos performed energy assessments (Energy Check Advanced) to find the actual energy consumption in the system, which involved the placing of sensors in the system to get real data from the existing setup.
"Grundfos brought all their own equipment. It was all clamp meters that just plugged into a power supply with a modem and a SIM card. And it required no effort on our part at all," says Andy Newman, Service Specialist, Arla Foods.
The measurements taken by Grundfos quickly showed that the design parameters for existing pumps were far out of their design curves, and inefficient. The result was a detailed report that showed how optimisation and downsizing of the existing system would generate energy savings and process improvements through better control and operational modes.
"What we got from Grundfos was a very clear report that identified and explained the technical benefits, and also the energy, financial and sustainability benefits. For us there were a number of wins that we could see from that project," says George Nicholls, Project Manager, Arla Foods.
"I think the fact that the report was based on actual measurements is also a real positive for us, because it was an illustration of the way Grundfos went about the survey. It was done properly and was a real positive!"
The decision to act was straightforward for Arla Foods. Capital costs and future running costs against the existing running costs were presented in a form where the Westbury team could quickly see that the payback time for any investment was within the limits set by Arla Foods.
"From the point of view of picking up a report, reading it and understanding the benefits, it was quite easy to take a decision with those payback periods on different fronts. It was a pretty easy decision for us!" concludes George Nicholls, Project Manager, Arla Foods.
The new NB pumps for the chilled water system
The new TPE pumps for the ice water system
The Grundfos team advised on the selection of intelligent pumps and controls and delivered a turnkey end-to-end system for chilled and ice water, including installation, piping and commissioning, and validation of savings. For the chilled water system this meant replacing the three old 55 kW pumps with three new NB 80-200 37 kW pumps including frequency converters. In the ice water system, the three old 22 kW pumps were replaced by three new TPE 200-70 7.5 kW pumps with built-in frequency converters.
Because of the critical production timelines at the dairy, a considerable amount of preparation was required for the installation process. A requirement was that all three pumps in each bank were online, even though one of the pumps was standby. The Westbury site does not experience many shutdown days, and, for the dairy, a shutdown day is 12 hours rather than a full day. Staggering the installation was not a possibility, as they couldn't be without one pump of the three, for reasons of reliability.
The new NB and TPE pumps with frequency converters – external and built-in respectively – were up and running within the 12-hour window.
"The new pumps are much, much better designed pumps. Even though they still use the modulating valve, we now have pressure control behind it. Now, the pumps sequence themselves and control to set points that we can alter. We also have more monitoring capability now and we can see the power consumption of the pumps locally," says Andy Newman, Service Specialist, Arla Foods.
"Another benefit is that the plant room is easier to maintain. The floor is generally completely dry. We don't have water spillages, and there's a lot less manual handling. This improves the work environment as well."
Arla Westbury also now requires fewer stock items onsite, reducing costs further. For example, just two different mechanical seals need to be stocked for the pumps, if required.
"It's a win on a number of fronts really. What the service specialists are specifically looking for is good, reliable, functional equipment that performs well in its chosen use. For us as a business we obviously have a responsibility to try to do things more efficiently and better. So, it depends on where you look within the business, and for us this project ticks a few boxes. It ticks a cost box, it ticks a sustainability box, and it ticks an engineering box as well," adds George Nicholls, Project Manager, Arla Foods.
Andy Cook is an engineering team leader at Arla Westbury and works with site services and team leaders for specialist areas: "For me, feedback for Grundfos was exceptional. We've done some good projects now with Grundfos and it's been seamless, well managed. I couldn't praise the guys enough."
"With this project we saw we could achieve a number of aims with a single installation. We could upgrade and get financial and carbon savings, which are very useful building blocks towards the overall 63 % reduction that the business is looking for," confirms George Nicholls, Project Manager, Arla Foods.
With the optimisation of the chilled and ice water loops, the next project for Grundfos at Arla Westbury was updating their boiler feed pumps. The steam boilers are a part of many processes in the dairy and are critical for running the evaporators, where steam is the main part of this process. This new project resulted in annual savings on the boiler feed with new pumps was 4096 kilowatt hours per year and 33.81 tonnes of CO2 equivalent.
Documented energy and cost savings
*These figures are calculated according to Arla Westbury's actual kWh price (0.10 GBP) and country CO2 rates. 
Operation and production benefits
The collaboration between Grundfos and Arla is based on trust built up over several years. The onsite sustainability programs now ramping up at sites globally, for example at Arla Westbury, are not about simply swapping pumps; they are about creating a program at each site for feasibility, and this program is different for each site.
The experience from Arla Westbury has built further on this partnership, because of the energy optimisation and operational improvements carried out over the last year, including an energy assessment to quantify potential energy reductions.
"Arla and Grundfos have a true partnership, as the energy assessments are a collaboration between Arla's experts on site and Grundfos technicians and specialists. Other facilities will soon meet Grundfos for the first time when they turn up for the energy assessment process. Grundfos helps with tools and systems to ensure that the process is replicable, and the data comparable," says Mia Bredal, Director, Arla Foods, and concludes:
"In this way, Grundfos is highly relevant to Arla for this approach worldwide, because they are selling more than pumps and can help us meet our energy reduction targets."
More Grundfos Case Studies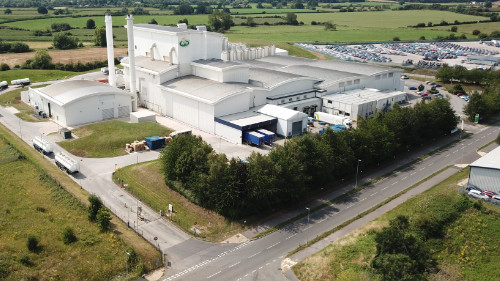 Case Studies
Arla achieves 481,800 kWh energy savings in critical water supply systems Arla Foods, one of
View Product
Looking for Grundfos Pump Options?
Grundfos JP are self-priming, single-stage centrifugal pumps with stainless-steel pump housings, designed for a wide
View Products
In-line multi-stage pumps are used in installations in which a high head is needed. Several
View Products
If water pressure is too high for too long, the risk of water loss, lower
View Products
MobileDos Portable dosing station Dosing is precision work and one of the main tasks in
View Products
Grundfos SMART Digital dosing pumps and skid systems provide the reliability and precision dosing essential
View Products
Grundfos circulator pumps are designed for best-in-class efficiency with low maintenance. Compared to conventional circulators,
View Products
Grundfos submersible wastewater pumps are designed as sealed units combining a pump and integrated motor
View Products